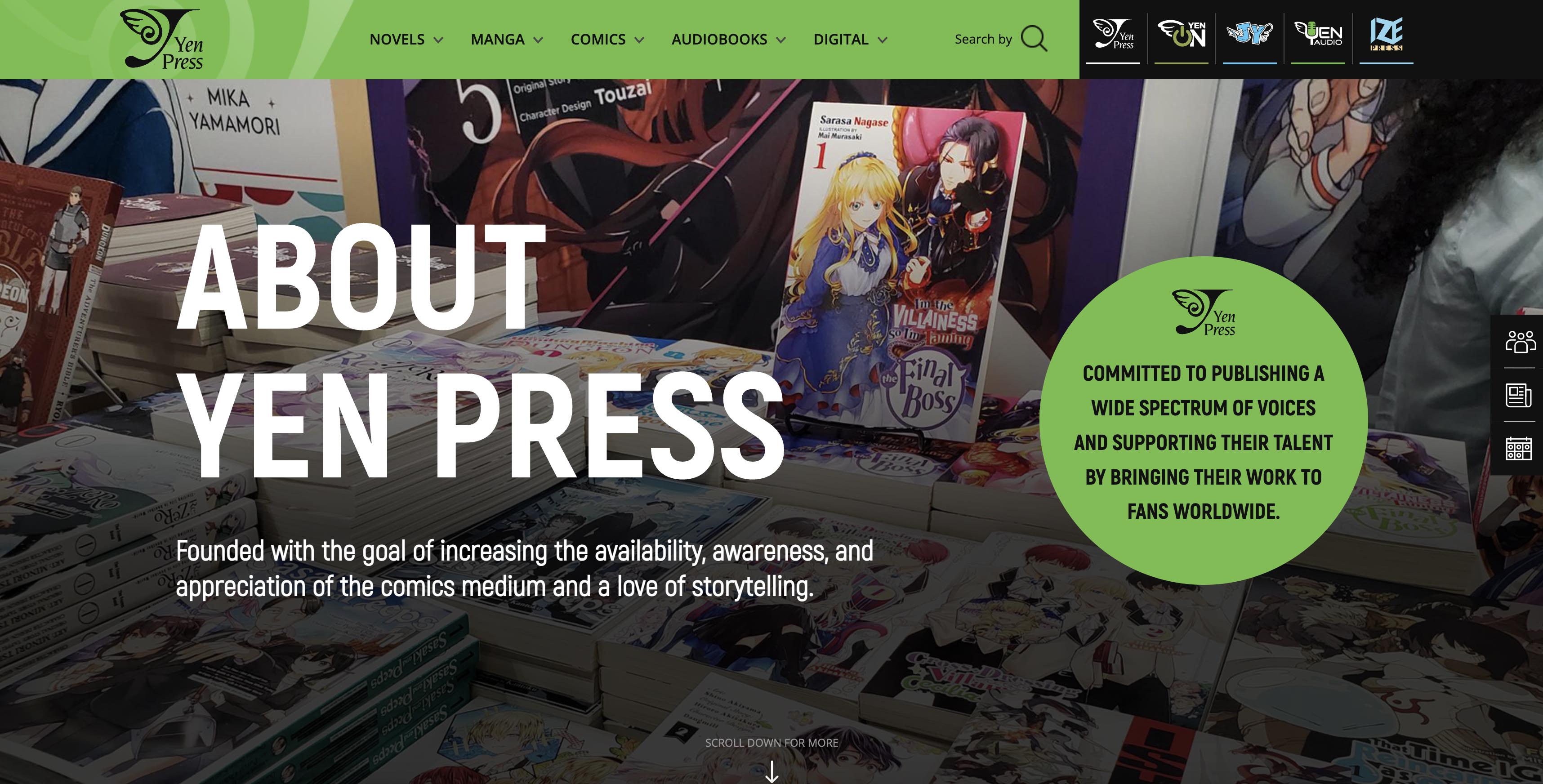 We are excited to announce the website launch of https://yenpress.com/.
Yen Press wanted a website that is easy to navigate and manage, with a primary focus on their authors' work. The publishing house asked us to develop an online platform that could cater to a broad audience between the ages of 13 to 30, including passionate collectors, book lovers, and teenagers fascinated with manga stories.
Our team took on the challenge. We created a minimalistic website that highlights the artwork of each title and allows fans to find their content quickly among thousands of genres, titles, series, and art styles published by Yen Press.
The back-end development team managed monumental feeds of data. Custom solutions, including a custom image manipulation tool and a custom tool for importing huge collections of books, were developed to manage the massive amount of content. Our due diligence and QA process was extensive and tedious, ensuring that all title data and ISBN information were accurate. The site launched with over 11,000 pages, making it one of the most extensive sites in the industry.
The revamped website resulted in a 50% increase in traffic within the first month of launch, making it a massive success. Yen Press is thrilled with the new design, which allows them to manage their content seamlessly and showcase their catalog to their broad audience

About Yen Press:
Yen Press, North America's largest comics publisher, has been dominating the comics industry for over 15 years. With a vast catalog of over 3,000 titles, including some of the most iconic Japanese manga, Korean comics, and original graphic novel series, Yen Press is committed to bringing a wide range of stories to its audience and to collaborating with creators to share their work with fans worldwide.
For advice on your website redesign or marketing campaign, just say hello@edesigninteractive.com.