Historically, the consumer packaged goods (CPG) industry has been spending millions of dollars on packaging and traditional advertising. This trend is about to be overwritten. It's time to drop the old marketing tricks and spice things up with bold and funny campaigns leveraging off your digital channels.
The acceleration of digital advertising is changing the way CPG brands shape and market their products. This year alone, digital ad spending by the industry is forecast to be over $5.7 billion, according to eMarketer.
More than ever before, CPG companies need to focus on creative web design, mobile, and social media strategies for product awareness and audience engagement. Your brand needs to stand out from the crowd; do something different.
Before we give you advertising ideas, let's analyze the shift happening with your end-users.
GENERATION NEXT
A socially wired generation of consumers is on the rise. People not only interact differently with your business, they expect more. This new generation of shoppers disposes of its income differently. They do not go to the same stores, do not get information the same way, and are not influenced by the same type of narrative brands used 10 years ago. Pushy sales tactics no longer impress the average consumer. Instead, they crave stories, human connections, and genuine interactions. Authenticity is becoming a key ingredient to customer loyalty. 63% of your audience buys from companies they consider to be authentic over a competitor (study by Cohn & Wolfe).
Winning millennials takes a whole new way of selling. Is your brand working on becoming more social, transparent, and engaging? You need to be planning campaigns that result in positive buzz and take over your audience's appreciation. It becomes more and more important for CPG brands to find new ways to weave products into everyday life and provide a unique customer experience.
Technology is at the heart of changing the retail experience. In today's marketing landscape, connecting with consumers is all about leveraging big data and little devices. Your content should be on-demand, available, scalable, effective, and location-aware. Your products should also have strong user-generated rankings. Mind-blowing fact: 92% of your customers are more likely to trust recommendations from a stranger over branded content. The CPG industry just awoke to this.
THE DIGITAL MINDSET
If spending on a Super Bowl commercial was worthwhile twenty years ago, today CPG advertisers' oath to explore the countless other places they should be influencing customers.
How do you bring your greatest strengths as a retailer in the physical store and use those assets to leverage off your audience online? It's a process. You need to learn, innovate, and switch to a new mindset. It's only when HBO realized that the family "sofa" is no longer at the center of their business that the company exploded on demand, on the go, on airplanes, and mobile devices.
Adopting the right mindset is a game-changer. For CPG brands, it's the realization that consumers expect to be able to move seamlessly between the digital and the real world and they expect to be entertained.
Here is a fantastic example of how Pepsi was able to marry the digital and physical world for an entertaining experience people won't forget.
STRANGERS WITH BENEFITS
Launching a user-generated content (UGC) campaign can be one of the most effective ways to promote your brand. It's the online version of word-of-mouth and it's very effective. Believe it or not, more than half of your clients say that on their purchase decisions than recommendations from family and friends.
UGC is a creative way to get your fans to work for you. You can bypass traditional marketing "gatekeepers" like newspaper editors and publishers by integrating an active consumer voice. You can increase product awareness without having to invest in expensive branded content by inviting people who already love your brand to talk about it. Voting campaigns, contests, quizzes, pictures, videos, testimonials, tweets, blog posts, forums, podcasts- the ideas are endless. Your audience spends an average of 5 hours a day engaged with user-generated content. It's a great way to draw engagement and make your advertising more memorable than using traditional media. It is also way cheaper than paying for prime-time TV commercials or a Times Square billboard.
Here is a great example of inviting your fans to participate in a fun online campaign: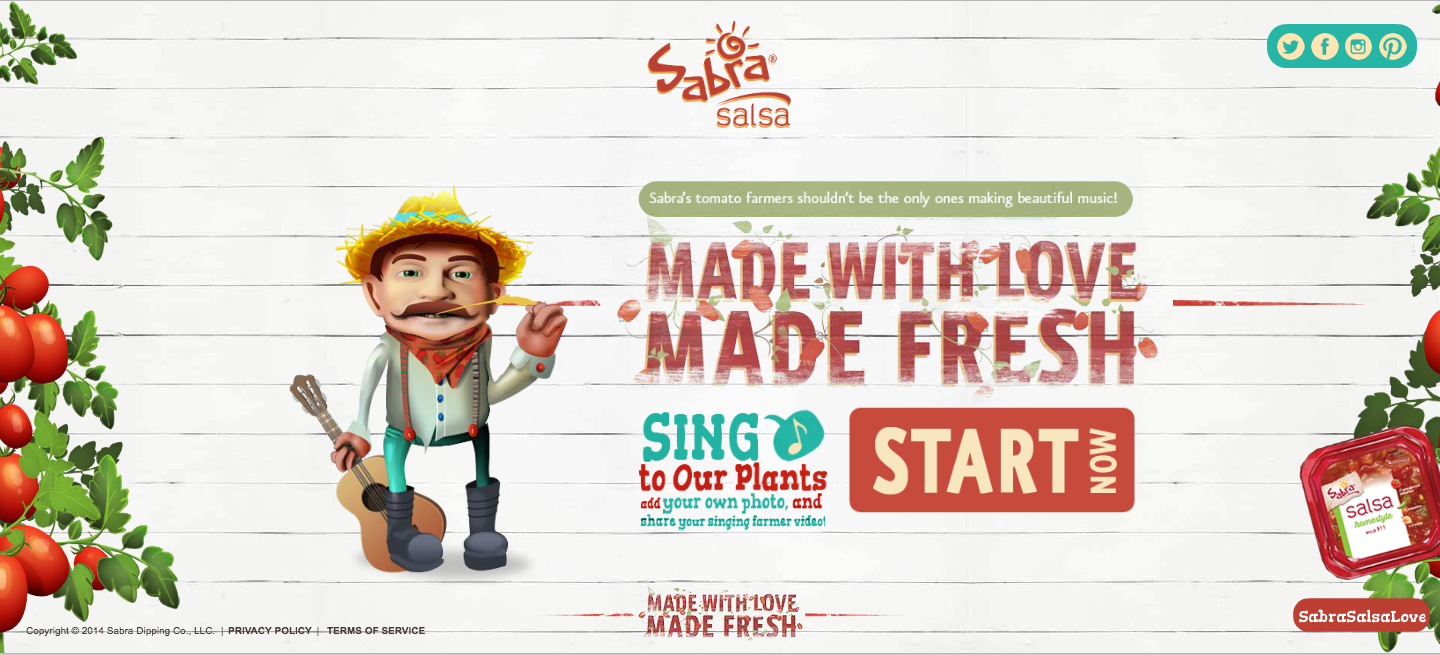 Sabra's Singing Farmers is a stand-alone landing page customers use to record their own farm songs. Since Sabra promotes healthy eating and fresh produce, what better way to encourage the plants, then to sing them a song? The campaign was accompanied by a singing contest on social media and prizes for the best performance.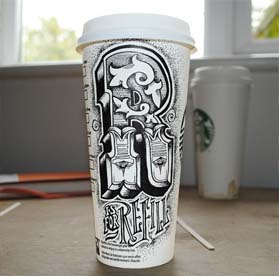 We all also remember the Starbucks' White Cup Contest encouraging clients to doodle all over their Starbucks cups and post their images as entries to win a limited edition Starbucks cup. Nearly 4,000 people submitted entries in just three weeks, creating a huge publicity buzz and engagement for the brand.
In order to create a popular UGC campaign, you will need to match your promotion type to your audience and take into account their interests and general affinity. Make the entry as straightforward, intuitive, and easy as possible. Make the effort to participate be worth the price offered. Make the campaign a fun promotional tool your fans will want to share with others. And make sure you will be able to use this content in future marketing materials.
PICTURE PERFECT
Another way of standing out is by boosting your online visuals and social media creative. With over 600 Million active users, Instagram is well-positioned to promote awareness for CPG brands. Use Instagram to visually represent your brand, celebrate its personality, and keep it top-of-mind with intriguing images that inspire. Instagram is the best peek into someone else's life. You don't have to sell a glamorous product to do well on Instagram. Instead, find ways to showcase products into everyday adventures. It's not about deep immersion, it's about interactivity and witty shots. Less is often more in the CPG category.
TIME IT RIGHT
If your brand were a person, how would you describe its personality? Fans need to get to know you and connect on a human level with you. They will happily follow brands with the same values as them, brands that "get them".
The most popular CPG campaigns are made of witty statements, broadcasted at the right moment. Nothing beats a well-timed campaign. The clever the commentary, the more chances of it going viral. "Dunk in the dark", anyone?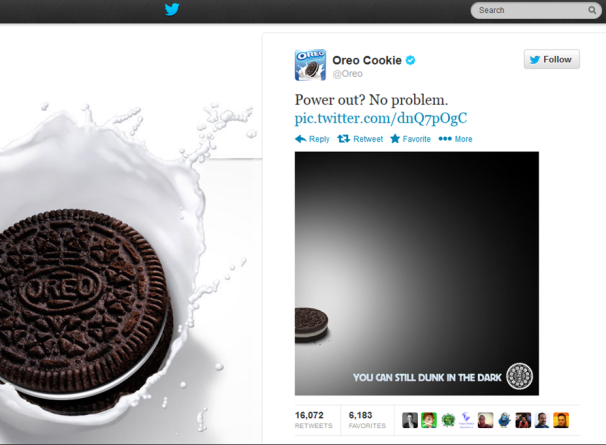 Although it was impossible to predict the Superbowl power outage, Oreo knew this is an event they should touch on. The team was focused on producing relevant content during the action. The move proved to be legendary and brought the company more public awareness than the multi-million dollar TV ad they purchased that night.
The takeaway: be ready. You never know when an opportune moment will arise.
Real-time updates like those on Snapchat, Vine, and Twitter are considered authentic because they aren't necessarily planned. They reveal your personality as a brand and put you closer to your audience.
CUSTOMER-CENTRIC APPROACH
Companies like Apple and Google are successful because they have adopted customer-centric business models. They aim to understand what their clients want and fulfill those needs.
In order to be successful, CPG brands need to adapt to their customer's ever-changing wants. Make client opinions the hero and display their feedback all-around your purchase cycle. Create two-way conversations and integrate feedback into your user-generated content. Welcome customer input and answer questions. There is no better way to build loyalty. Encourage your consumers to participate and feel part of something bigger.
If you operate a CPG brand, it's time to transform your marketing approach. You need to identify the appropriate social channels and boost creative campaigns that will speak to your customers. Your CPG marketing needs to integrate a mix of digital strategies to ensure campaigns maximize their reach. Analyze big data across your organization and invest in data-driven marketing. You need to consistently boost brand awareness and engage mobile and social consumers. You need advertising campaigns that deliver measurable ROI.
Leverage both branded and user-generated content to drive engagement, click-thru, and conversions. Aspire to "humanize" your brand and build a community of loyal fans for many years to come.
For more information, you can reach us at (973) 867-7042 or say hello@edesigninteractive.com. We would love to help you design an effective marketing strategy for your CPG brand.