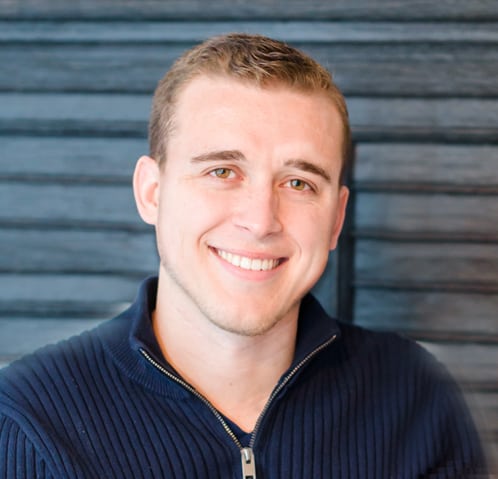 eDesign Interactive is excited to welcome our new Director of Digital Marketing, James Gibson.
James Gibson has extensive knowledge in SEO, paid advertising, and social media reach, but his real passion is growth marketing. James loves to find smart ways to automate sales and customer engagement. He is a big believer in the digital space and has built a fantastic track record of proven results. "Digital marketing is now the majority of a typical marketing strategy," says our new team member.
James shares that growth strategies are extremely custom and need to be built on a case-by-case basis. A marketing aspect that is very important to him is automation and finding smart pathways to growth.
"When you work with a small team, you try to do everything you can with the limited help you have. In the early stages of implementing a digital strategy, you need to figure out what tools you can utilize to automate your workflow in a way to carry out as many marketing tasks as possible with the manpower of just one employee."
For James, growing your company online takes a certain mindset. The question to ask yourself is: "How can I create the biggest impact with the least amount of effort?" For example, something James encourages companies to examine is finding ways of repurposing their advertising content to reach a maximum number of people in different channels.
Recording a webinar is a great way to show your expertise and leadership in your business niche. Once your webinar is ready, you can easily cut your speech into small video segments for social media. The audio of that same clip can then be published through various podcast channels.
With every piece of content you create, think of ways to repurpose the information on many channels to multiply your reach and create awareness. To James, most inbound or outbound workflow efforts are best leveraged in ways to bring you more business and customer conversion. The key is how to measure success.
James has previously helped a financial advisory company that was green to the digital space and had never earned business from the web. By driving SEO grades up and implementing a new online strategy, the company grew by 10% and now receives 50% of its leads from the web.
James also worked with Metro Exhibits, a trade show display company. He was instrumental in upgrading their email marketing campaigns and introducing smart automation features to be used by the company's sales and customer services teams. Using Salesforce and Pardot for automation and reporting, James built a workflow to close the circle between SEO, paid Google & Bing advertising, email marketing, and automation. These lead generation efforts helped drive an incredible 35% growth on average for the company over a span of 4 years. In leveraging Pardot/Salesforce, clever scaling techniques, and his in-house marketing strategy, James was able to automate workflows that typically take an entire team.
One of James's favorite growth marketing tools is Zapier. James uses this application to boost productivity tasks, automate sales processes, and create smart marketing workflows. For example, the sales team at Metro Exhibits was very busy handling the inbound business and did not have much time left for outbound lead generation. The answer here was to figure out ways to incorporate outbound leads into the inbound marketing process. James did that using email. If a potential client would respond that they have already hired a trade show exhibit company for a particular event, James had created an automated task where the client's information would go to an Outlook calendar and pre-fill a follow-up email, exactly 7 days after the end of the event. With one click, a calendar reminder would be set on the exact date, and with one more click, an email would auto-populate and be ready to send to the same client asking how their trade show went. Sales follow-up became automated. Did the client like the trade show booth they bought through another company? How was their experience? Did everything go smoothly? James realized that 20% of the time a trade show exhibit company would make mistakes. That opened a great opportunity to jump in and let potential clients consider Metro Exhibits for their next trade show. It was a simple automation task that led to a great lead acquisition strategy.
Smart automation processes can make sales jobs easier and increase revenues. It takes time and patience to put the logic in place, but when ready, the business workflow and lead generation become fast and efficient.
After you've built your automation system and refined it as much as possible, all you have to do is pull a few levers to see great success. James's approach to growth marketing is to encourage a brand to do as much as possible with as little manpower as possible through smart automation processes.
James is taking what he has learned by working for individual industries with different workflows (finance, trade shows, and software as a service) to understand how B2B and B2C purchasing decisions work and what channels perform in different business contexts.
For James, the secret to growth marketing is prioritization. There is so much noise in the marketplace, and teams are easily distracted by new platforms or focus on communication channels that aren't working. Businesses end up spending a lot of time and a lot of effort on the wrong marketing strategy in order to improve it. This is a mistake.
The key to growth marketing is focusing on what's working and putting 80% of your time and effort into it. Innovation is good and exciting, but brands need to analyze their data to understand what efforts are actually bringing revenues. Once they find out what's working, they know where to invest their time and effort – and even where to spend money in new places.
James and his wife Laura have two sons, Thomas (2 years old) and Liam (2 months old). When he's not commanding the digital space for clients, James follows his passion for astronomy, keeping up with everything SpaceX and NASA are doing. He also loves playing golf on weekends, and soccer with his son.
James has a startup mindset. He is entrepreneurial and loves challenges, innovation, and finding new ways of doing business. We are sure you will be delighted to meet James, and we look forward to incorporating his ideas into our team.
To connect with us, just say hello@edesigninteractive.com. Our branding and website design experts in New Jersey would be happy to learn more about your needs.