The Challenge
Delta Cooling Towers started losing their long-standing Google rankings for major keywords. The team asked us to audit their website and diagnose the problem.
We were able to identify what happened and formulate a solution. As a result, we placed Delta Cooling Towers back on the first page of Google in just a matter of days.
In this article, we would like to share with you the simple technique we used to help an established business website recover its SEO rankings.
About Delta Cooling Towers
Founded in 1970, Delta Cooling Towers is one of the first companies to manufacture a seamless, non-corrosive, and low-maintenance polyethylene cooling tower line. The cooling tower shells never rust, flake, chip, peel, or need painting or protective coatings. Delta's structural shells are the future of the industry, so much so that the company provides a 20-year warranty.
Delta Cooling Towers specializes in a niche business. Their industry is very specific and is focused on several key terms and phrases (e.g., "cooling towers").
What Happened?
Our job was to uncover why Google stopped ranking Delta's established website and pushed the company back to page 4 in search results for priority pages.

Looking at the website closely, we realized there had been inadvertent changes made to these pages during an internal re-organization. Our audit showed that crucial SEO content was relocated and was now missing from a previously high-ranking page. At the same time, the team had also created a new web page with very similar messages to the original modified page. Google had dropped Delta's ranking after these two shifts had taken place. Here's why:
· The original website anchor page contained information that helped to rank it high on Google. By removing a portion of this content, the page became instantly less valuable.
· Publishing a second page with similar content to the anchor page made rankings plummet further. Having two pages speak about the same topic created an option paralysis for Google. Instead of promoting a single search result, Google had now decided to show both pages 50% of the time, which caused keyword cannibalization.
· All the positive statistics that the anchor web page had accumulated over the years had dropped, and Delta Cooling was pushed to the fourth page of search results.
The Solution
To help Delta Cooling Towers, we determined which content had been moved from the original anchor page to the new web page and reverted the changes. We deleted the additional page that was causing Google to pause, and we redirected this information (using a 301 URL redirect) to the original anchor page. In simple terms, we got rid of duplicate content.
Our copywriters made sure the anchor page contained very detailed industry information. We linked this content to Delta's anti-microbial cooling towers and induced draft towers. We also linked the anchor page to a reputable external source of useful information. In a few short days, Delta Cooling Towers went straight back to the first page of search results.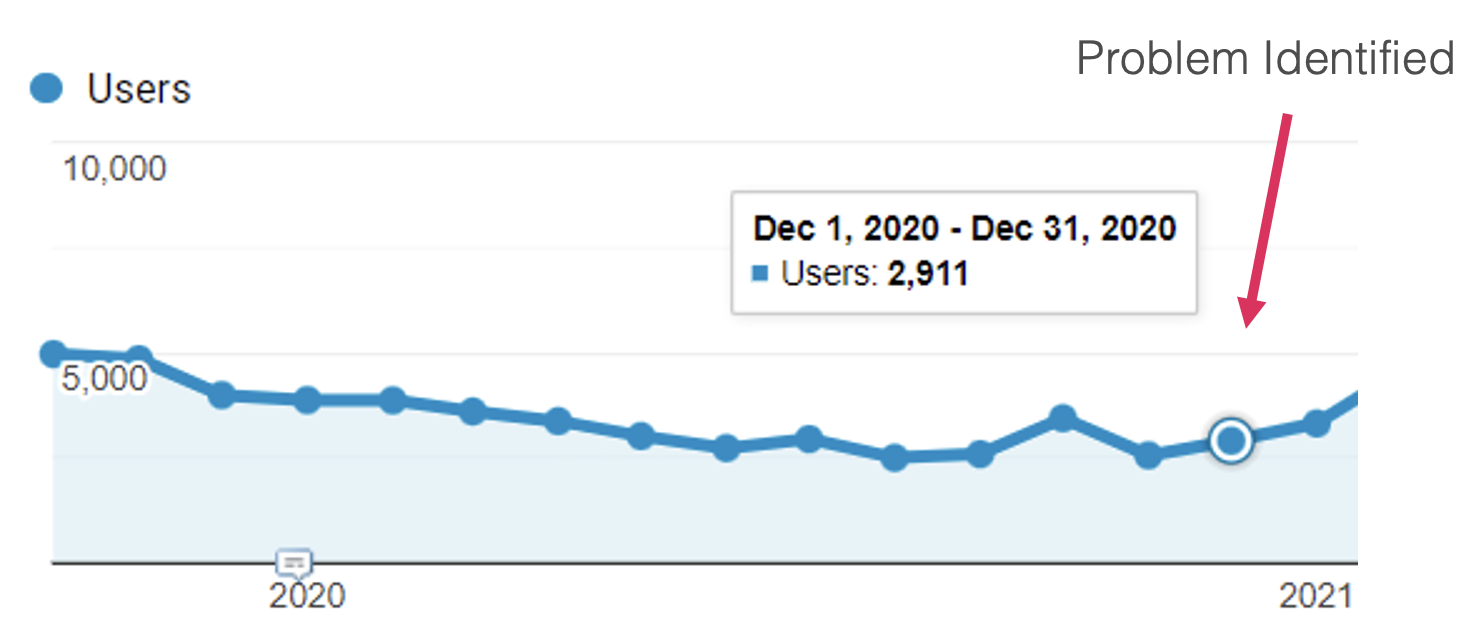 By thoroughly analyzing drops in traffic, we were able to track events back to the exact changes the internal team made to pages that inadvertently caused their rankings to drop.

After we identified and corrected the problem, we were able to help Delta rank first page for the two most competitive terms in their industry ("cooling tower" and "cooling towers").

We were able to double traffic from when the problem was originally identified.


Takeaways
Brands that blog too often about similar topics and repeat the same information need to be aware that they are potentially weakening their Google rankings. This is one of the most common mistakes we see when we audit business websites.
Creating pages with similar content causes Google to rank your pages for the same phrase, a fraction of the time. This spreads out all that good data and can decrease the click-through rate of an individual page.
How do you blog consistently to rank on Google, without repeating yourself? It's a strategic balance. Our advice is to create a very thorough page on each one of your topics and delete peripheral pages that talk about the same thing. Focus on building the authority and equity of one anchor URL for your main keywords— we call these SEO signals "EAT" (Expertise, Authoritativeness, and Trust). Then find creative ways to publish news and updates about your topic.
Blogging effectively also includes linking your popular content pages to your business products and services, as well as linking your pages to reputable external links with useful information. If you optimize your blog for SEO and link your product pages correctly, you will quickly notice an increase in search ranking, which will in turn bring in more buyers.
To help Delta Cooling Towers, we asked ourselves the following question: how can we drive online visibility while also establishing a recurring lead generation funnel that drives user interest at the most opportune time?
The answer for Delta Cooling Towers was to embark on a lead acquisition strategy by targeting a small set of buying phrases, with the specific goal of increasing leads from SEO.


Does your website generate leads for your business? Ask our team for answers.
We would be happy to learn about your business development goals and help with your online advertising.
To connect with eDesign's digital marketing experts in New Jersey, just say hello@edesigninteractive.com.